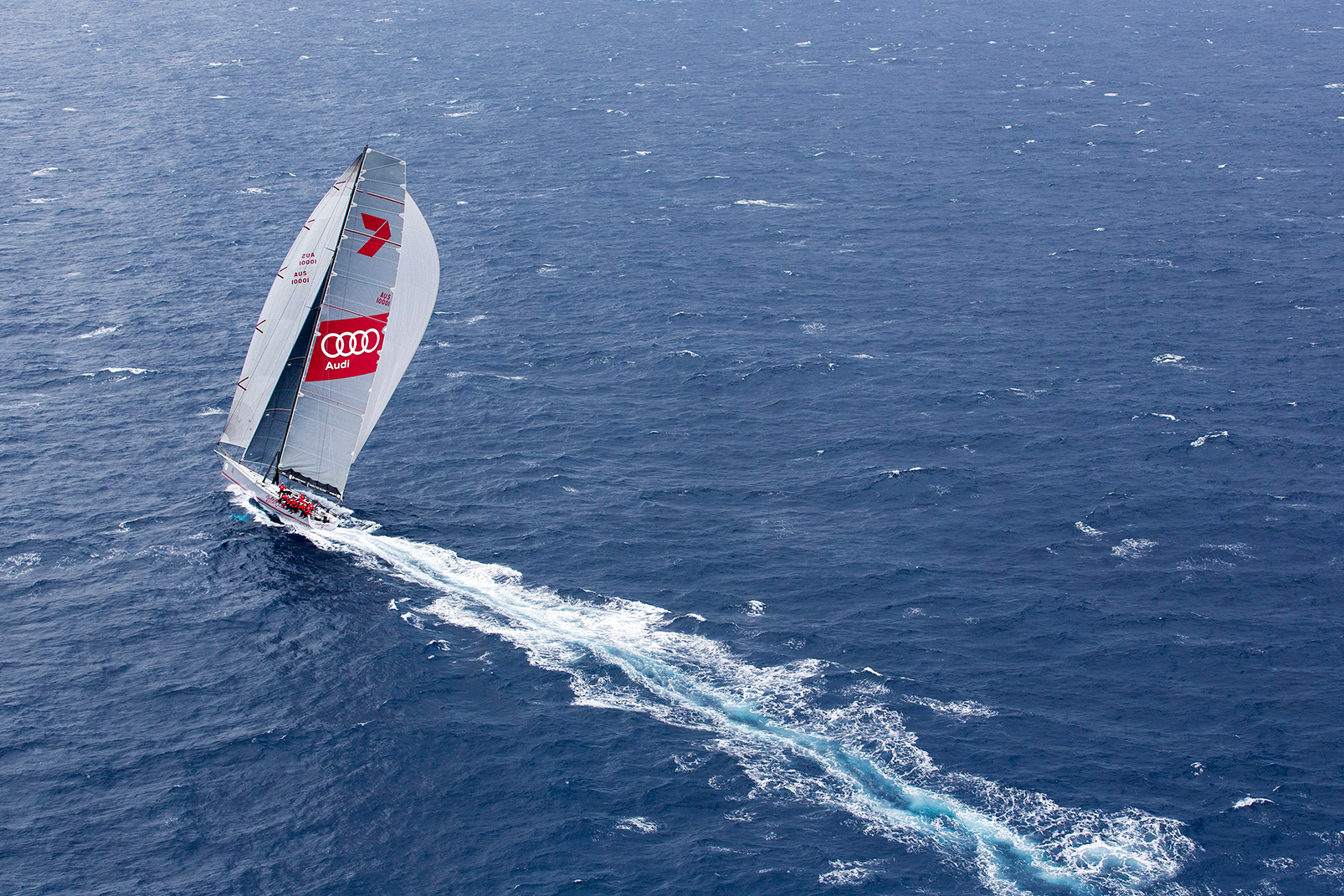 The Oatley family's champion Rolex Sydney to Hobart yacht race supermaxi, Wild Oats XI, is at the centre of a frenetic repair schedule after it was struck by lightning at the weekend.
It is uncertain at this stage if the yacht will be in full racing trim for the start on Boxing Day.
Wild Oats XI was out of the water and in its cradle at Woolwich Dock, on Sydney Harbour, when a bolt of lightning struck the top of the 45-metre high carbon fibre mast during a thunderstorm early Sunday morning.
The 10 million volt-plus discharge from the lightning destroyed a significant number of electronic instruments, all of which are vital if the yacht is to maintain maximum speed and stay on course during the race. What is not known at this stage is if any of the yacht's carbon fibre rigging was damaged by the strike.
"It's a major blow for us on the eve of the big race," said Sandy Oatley. "However, I'm sure our great team will have everything ready for the start on Boxing Day. There is no stopping them."
Sandy Oatley was quick to recognise the support offered to Wild Oats XI by Peter Harburg, owner of near sistership, Black Jack. On Harburg's invitation, Wild Oats XI's shore team manager, Paul Magee, flew to Brisbane today to see what equipment existed in Black Jack's warehouse that might replace instruments damaged by the strike.
"That's the spirit that exists in this level of ocean racing," said Sandy Oatley. "We might be arch rivals on the race course, but we're all supportive of each other when necessary."
Wild Oats XI's skipper, Mark Richards, said he was confident the yacht would be ready for the start of the 628-nautical mile classic on Boxing Day.
"I'd like the think that this is the third strike when it comes to bad luck for Wild Oats XI in the Hobart race," Richards said. "Two years ago the mainsail shredded in a storm; last year the canting keel hydraulic system keel failed, and now we've been hit from the heavens."
Richards added that while rigging checks would continue tomorrow, he believed no damage would be found.
Another line honours favourite for the Hobart race. Comanche, which was docked alongside Wild Oats XI when the storm struck, was not impacted by the lightning strike.
For more information contact Wild Oats XI's Media Manager, Rob Mundle – rob.mundle@bigpond.com or phone + 61 (0) 417 323 573