Follow our journey on social media – #WildOatsXI
<< Please use the grey scroll bar to view more posts >>
MEET THE TEAM
This year's Wild Oats XI Rolex Sydney Hobart crew is not one to be messed with. The team of 20, lead by Skipper Mark Richards, is comprised of some of the world's most talented and applauded sailors, including numerous America's Cup, Olympic and Volvo veterans. With nearly 250 combined races between them, the key to this yacht's impressive history has undoubtedly come down to picking the right crew, and sticking with them.
While Wild Oats XI owners, the Oatley family, have kept the boat competitive through continuous modification, the winning formula has been keeping the crew turnover to a minimum, ensuring that everyone onboard knows the boat inside out and works effectively together as a team. Under the guidance of Mark Richards, the team is vying for a record breaking 10th line honours win in this years edition of the Rolex Sydney Hobart.
NEWS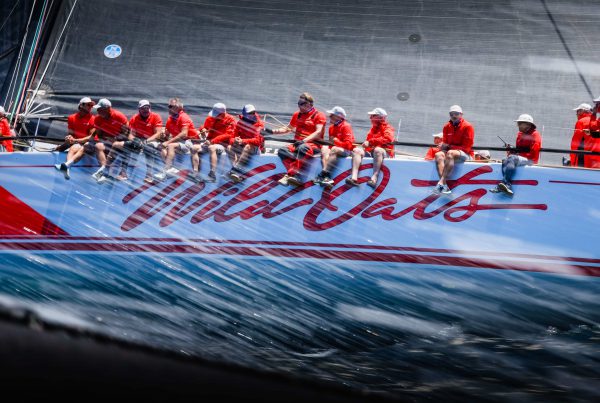 "Skipper Mark Richards and his Hamilton Island Wild Oats team of 21, … took one day 13 hours and 38 minutes to complete the 628 nautical mile passage in fast downwind conditions" writes Lisa Ratcliff from the Whitsunday News. Read the full article for more.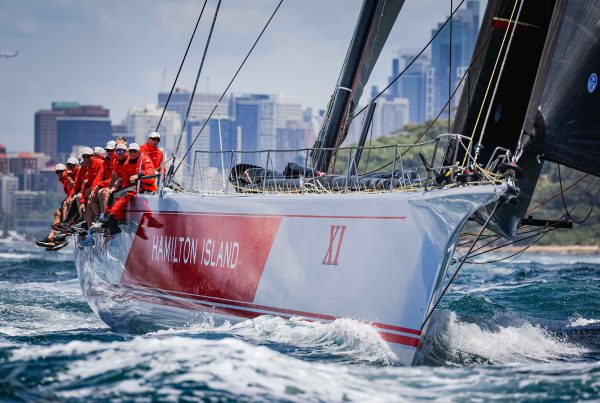 In any other sport, a scoresheet listing nine line honours wins and a combined 238 Rolex Sydney Hobarts among the crew of 21 would suggest that team is the pre-race favourite. The Rolex Sydney Hobart Yacht Race, however, is a sporting contest like no other; while nothing is left to chance in terms of preparation, luck is as much a factor as previous success. Hamilton Island Wild Oats' long-time skipper Mark Richards says "this year's super maxi competition is red hot – Andoo Comanche, Black Jack and LawConnect. All have amazing teams with people flying in from all over the world to sail these incredible boats." Onboard the Oatley family's Hamilton Island Wild Oats are three newcomers: key internationals Murray…
THE ROLEX SYDNEY TO HOBART RACE
Regarded one of the most gruelling yacht races in the world, the Rolex Sydney Hobart Yacht Race is a challenge on most sailors' bucket list.
Over the past 76 years, the event, which starts at 1pm from Sydney Harbour on Boxing Day, 26th December, has been entrenched as an icon of Australian summer sport.
From the spectacular start in the harbour the fleet sails out into the Tasman Sea, down the south-east coast of mainland Australia, across Bass Strait, which divides the mainland from the island state of Tasmania, then along the east coast of Tasmania. At Tasman Island the fleet turns right into Storm Bay for the final sail up the Derwent River to the historic port city of Hobart.
The ultimate race trophy is the Tattersall's Cup for the winner on corrected time; this is how supermaxis and 30-footers compete on a level playing field. Then there's the coveted line honours trophy, the J.H Illingworth, and divisional prizes which recognise the hard-fought battles among boats of a similar size.
Over the 628 nautical mile course, navigators must continually consider currents, the sea state, and conditions, in terms of light winds through to the possibility of extreme weather events. In the back of every crew's mind is the possibility of a race-ending breakage, hitting a floating object at speed and keeping the crew rested, fed, and safe right to the end of what is an endurance event.
At the finish line, Hobart's waterfront is overrun with crews enjoying a beer or two, celebrating their arrival and regaling tales of their adventure – all thoughts of never doing a Hobart race again quickly forgotten.
It is an event that Tasmanians love to host so if you're down that way, make sure you wander around Kings Pier marina, chat with competitors, and get up close and personal with the Rolex Sydney Hobart fleet.
Official website https://www.rolexsydneyhobart.com @RolexSydneyHobart @officialrolexsydneyhobart
WILD OATS XI – KEY DEVELOPMENTS OVER THE LAST DECADE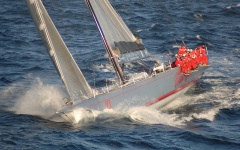 2005
Wild Oats XI was launched only a matter of days before her first Rolex Sydney Hobart race. She proved to be so fast that she blasted her way to a rare 'Triple Crown' victory – line honours, a race record time and victory on handicap. Her time for the 628 nautical mile course was 1 day, 18 hours, 40 minutes, and 10 seconds, more than an hour inside the previous record.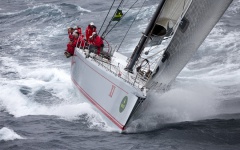 2009
The Oatley family's renowned Wild Oats XI was extended to the new maximum overall length for yachts contesting the Rolex Sydney Hobart race – 30.48 metres (100ft).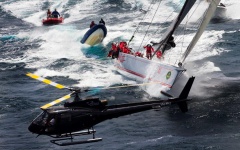 2012
Under Skipper Mark Richard's expert captainship, Wild Oats XI again took the triple-crown in the Rolex Sydney Hobart race - line and handicap honours and a race record time. That elapsed time was 16 minutes, 58 seconds inside her previous mark.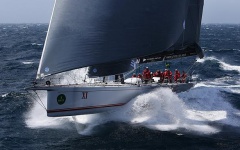 2013
Pioneering new technology, Wild Oats XI again pioneered new technology: she was the first international ocean racing yacht to carry a hydrofoil-type wing; a feature designed to provide lift to her bow and therefore deliver greater speed when sailing downwind.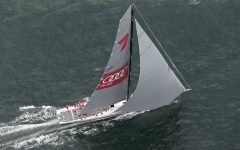 2014
Wild Oats XI's bow is streamlined to reduce drag – a modification that was expected to gain her just a few seconds per mile in speed. While this does not sound like much, the fractional gain in speed could contribute to her being between 15 and 30 minutes faster over the 628 nautical mile course to Hobart. She was also fitted with new sails made from a revolutionary, non-stretch, ultra-light fabric.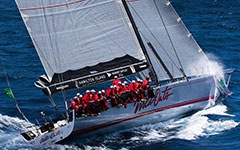 2015
The underside of the hull has been resurfaced with a high performance finish, which is expected to reduce drag and therefore increase speed through water, and several new sails utilising cutting edge 3Di technology have been fitted to the yacht. A major modification carried out at McConaghy's in Mona Vale, Bow cut off boat and replaced with new longer bow and 2 meters cut off stern, bowsprit extended. Same overall length maintained.





"We truly value our partnership with the Oatley Family and Wild Oats XI. Seven has a long and proud association with yachting and a deep connection with Sydney and her Harbour. We applaud the professionalism, commitment and talent of all who sail on Wild Oats XI and take great pride in riding with her and her crew."

− Lewis Martin, Head of Channel 7 Sport
"It's a great honour to be associated with a yacht with the track record of Wild Oat's XI and we enjoy being not only partners in their quest for an historic 10th Syd-Hob line honours but also to be trying where possible to emulate their feats on a reputational basis, pushing the boundaries of performance and standards of excellence in tourism."

− Glenn Bourke, CEO, Hamilton Island
Click the edit button to add your testimonial. [/client]