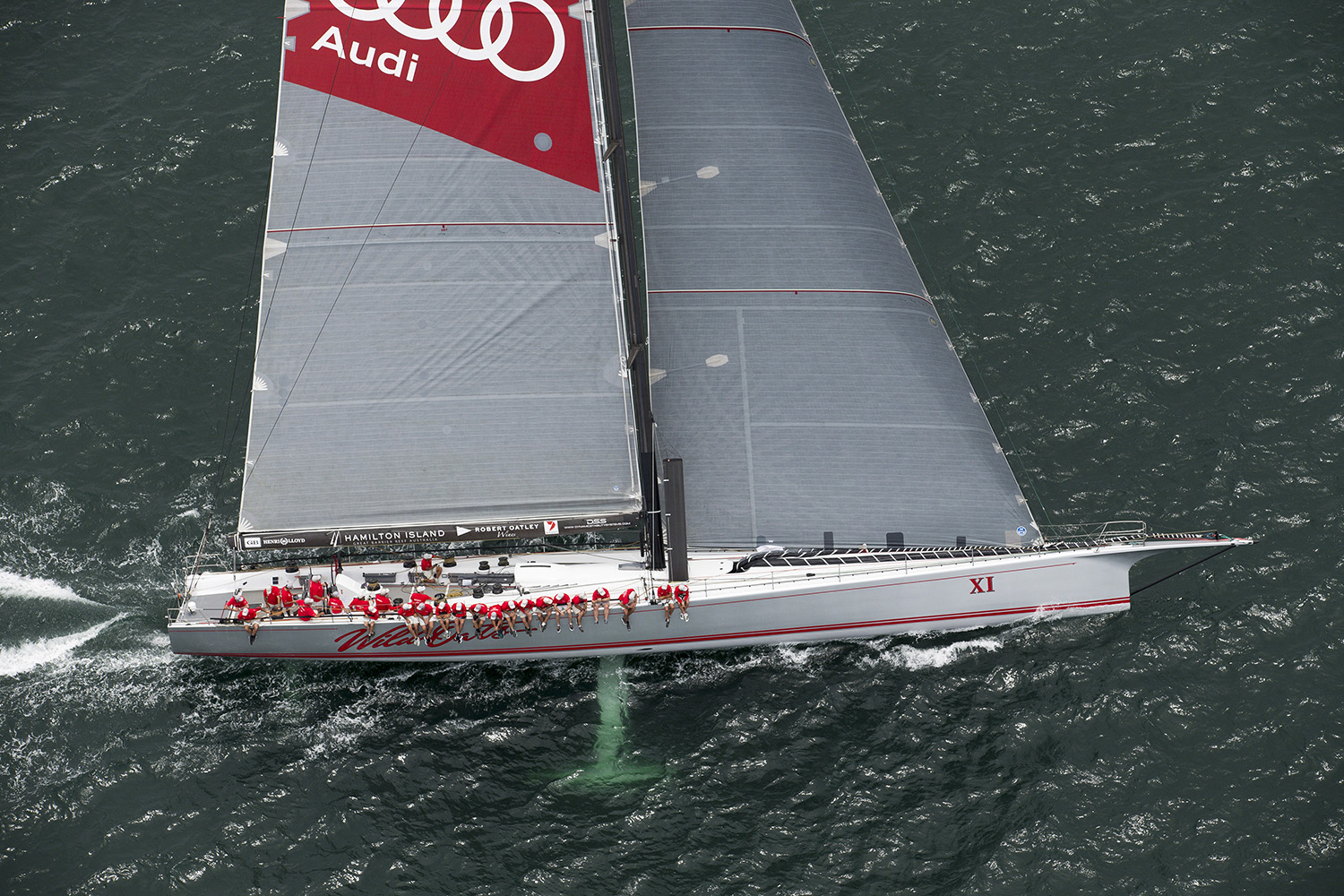 The Oatley family's Sydney-Hobart yacht race record holder, the 30-metre long supermaxi Wild Oats XI, will make her return to ocean racing this weekend after a six month break.
She will be competing in the annual Land Rover Sydney-Gold Coast race, which starts on Sydney Harbour at 1pm on Saturday. A near-record fleet of 76 yachts will participate.
The coastal classic will be Wild Oats XI's first campaign since sail damage forced her retirement from the Rolex Sydney Hobart race last December. This incident came only weeks after she had been re-launched following extensive hull modifications. Changes were also made to the sail plan at the time.
Following the Sydney to Gold Coast Race, Wild Oats XI will contest the Brisbane to Keppel race then head north for Audi Hamilton Island Race Week, which will be staged from August 20 to 27.
"We're really looking forward to these three events over coming weeks," said Wild Oats XI's highly successful skipper, Mark Richards. "They are an important part of our preparation for the Hobart race.
"We were less than 12 hours into the last Hobart race when we were forced to retire, so we're still on the learning curve when it comes to seeing how the yacht performs since being modified. The Gold Coast race will be a bit like us getting reacquainted with her in a racing environment."
Wild Oats XI was forced to retire from the Sydney Hobart race when equipment failure caused the mainsail to shred down its trailing edge. The massive sail – made from the world's most advanced sailcloth – has since been repaired and is as good as new.
In recent months the yacht's shore crew has spent considerable time working on ways to make the yacht faster when sailing upwind. Much of that effort has gone into improving the efficiency of the two retractable daggerboards.
Yachting meteorologist Roger Badham expects it to be a slow race to the Gold Coast as light winds and an unfavourable south-flowing current are likely to prevail over the entire distance.
Wild Oats XI and the other supermaxi competing in the race, Scallywag (formerly Ragamuffin100), are not expected to finish before sunrise on Monday.
The majority of the fleet will be docked at Southport Yacht Club after completing the course.
For more information please contact:
Rob Mundle
Wild Oats XI Media Manager
+61 (0)417 323 573 or rob.mundle@bigpond.com