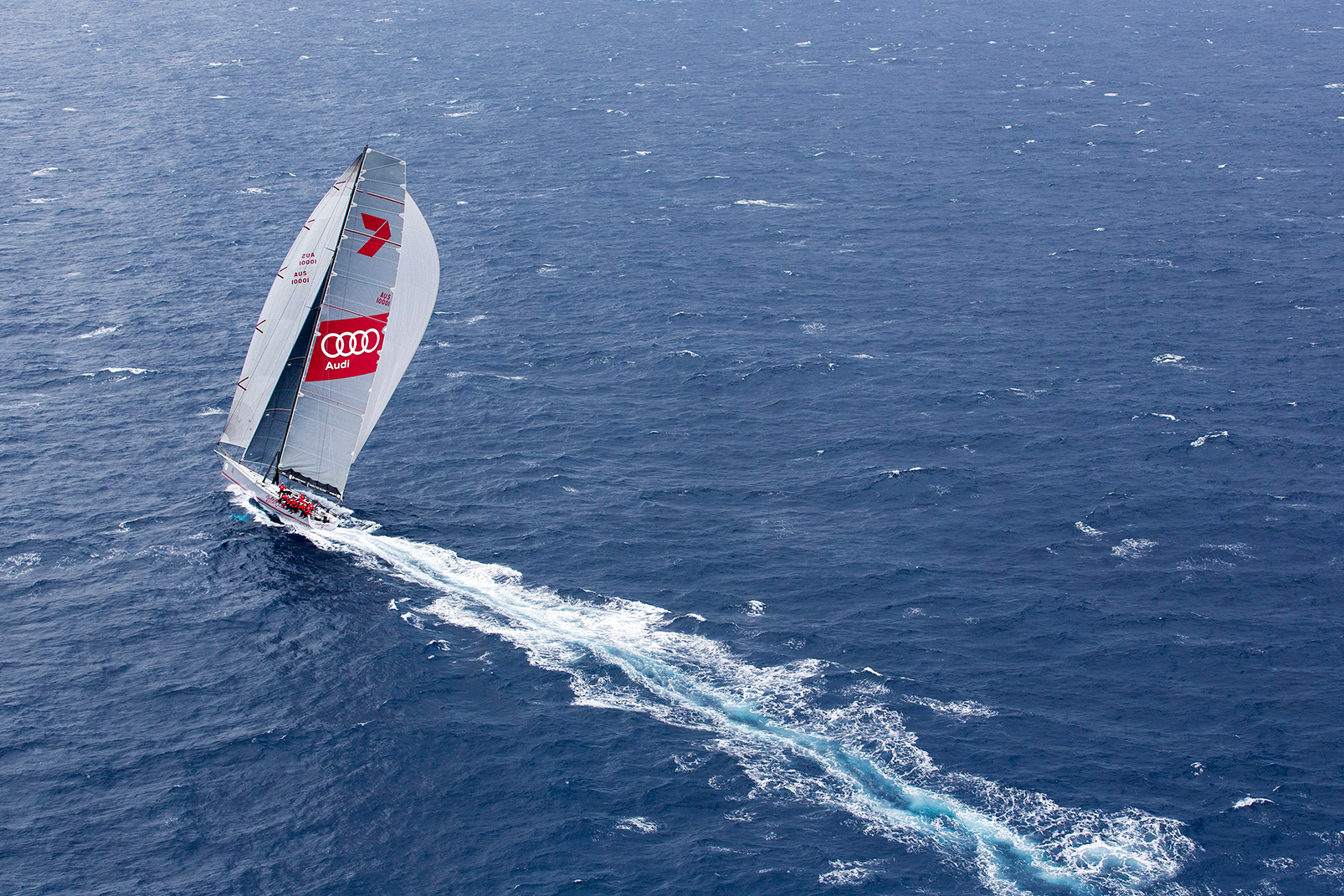 Every aspect of the record-breaking Wild Oats XI story is as good as it gets, writes Rob Mundle.
PHOTOGRAPHY BY ANDREA FRANCOLINI
In the spectacular world of international ocean yacht racing, there are three ultimate challenges: the Fastnet race out of England; America's Newport Bermuda race; and the event most see as the greatest contest of all — the 628 nautical mile Rolex Sydney Hobart Yacht Race.
Across its 71-year history the Hobart race has been laden to the gunwales with drama and excitement. Everything about it is unique. It is the only major offshore racing event in the world that starts on a harbour and finishes in a river. And no other similar event attracts so much media interest, or number of spectators: it is estimated that at the start alone some 300,000 people watch the spectacle when either afloat on Sydney Harbour, or on the shore of what is a magnificent natural amphitheatre. The television coverage of the start takes that number into the millions.
As fate would have it, it was the timing of the inaugural event that set the Hobart race on a course towards becoming the stuff of Australian sporting legend. It was 1945 and a war-weary nation was desperate for a diversion away from the brutalities of World War II, which had ended only months earlier. The Sydney Hobart race would be a much-needed panacea. On Boxing Day 1945 the crews of nine small yachts were seen to be putting their lives on the line in the name of sport by racing to Hobart. Most importantly, the media of the day thrived on the story, especially when the fleet was hammered by a ferocious southerly gale and there were no sightings by the Royal Australian Air Force of one yacht in particular, the highly fancied 35ft long, Rani. Then, on January 2, 1946, The Sydney Morning Herald reported: "DRAMATIC END TO YACHT RACE — Missing Rani Reappears And Wins Easily."
Rani's name went into the history books as having been first to finish (line honours), the fastest time for the course (six days/14 hours/22 minutes), and being the winner on handicap (corrected time).
In the 71 years since that first race, 5,827 yachts and more than 50,000 men and women from across the world have contested the annual Sydney Hobart race, and today one yacht stands out as the most remarkable of all; the silver-hulled, 30-metre long supermaxi, Wild Oats XI, campaigned by the Oatley family. On Boxing Day this year this amazing yacht will be going for an unprecedented ninth line honours, and, given the right conditions, she could well claim the treble for the third time – line and handicap honours and a race record. In 2005 – the year she was launched – Wild Oats XI became the first yacht since Rani to achieve that remarkable result.
The story of Wild Oats XI's origins, and her wonderful owner, the late Bob Oatley AO, BEM, is as fascinating and engaging as her performance when racing on the high seas.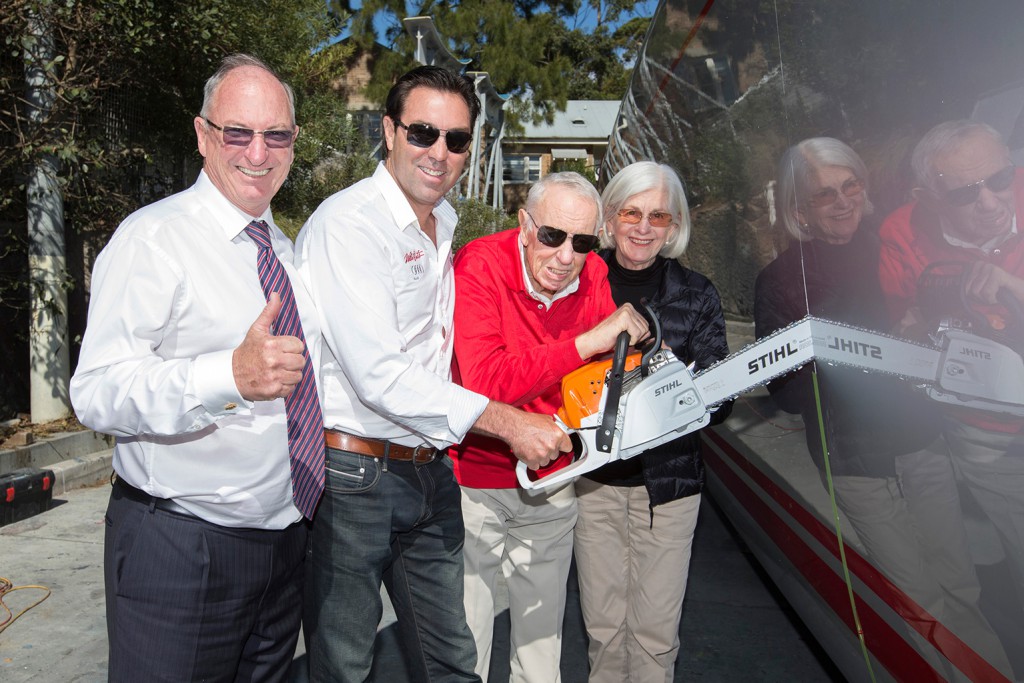 Sandy Oatley, Mark Richards, Bob and Val Oatley cutting the bow of Wild Oats XI.
Bob, or "Popeye" as he was known to family and close friends, had an uncanny ability to inspire people into going beyond preconceived limits and achieving remarkable goals. Such was the case with Wild Oats XI. Never had such a sophisticated racer been created in such a short time frame – just 10 months – and never had a yacht had such an impact on the sailing scene and public arena within four weeks of being launched.
Wild Oats XI was built in Sydney by John McConaghy, an artisan acclaimed internationally as being among the very best when it comes to constructing racing yachts using space-age composite materials.
McConaghy is not sure how many boats he has built over the decades, but he is sure of one thing: "My No.1 project of all was Wild Oats XI," he said without hesitation.
"It's the best build I've ever been involved with, and making that even better was the fact that she has been so successful. Most importantly though, this was the project where we loved the owner; a project that was as good as it got."
Wild Oats XI, like her two smaller predecessors built by Bob Oatley, had a design feature that he, with the enthusiastic support of his skipper, Mark Richards, had introduced to offshore racing about five years earlier. It was a canting keel, one that swung from side to side so less ballast was needed to keep the yacht upright. World champion and America's Cup yachtsman Iain Murray, who today sails as tactician aboard Wild Oats XI, describes the concept this way: "The canting keel has probably been the largest single design element that has increased the speed of yachts ever.  It's like sticking a giant V8 engine in a Toyota Corolla."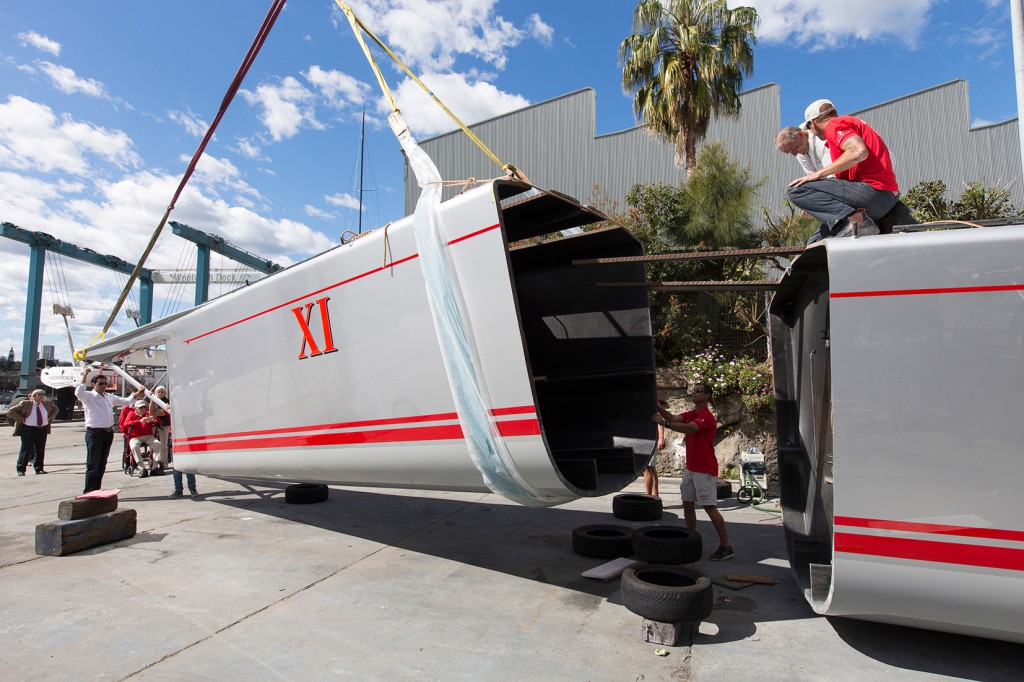 Bow of Wild Oats XI being removed.
Wild Oats XI would represent the ultimate application of this technology.
In 2003 Bob led the Australian team to victory in the prestigious Admiral's Cup international team event in Cowes, England. He entered the original Wild Oats XI and had Mark Richards as skipper. That yacht's speed was enough for him to commission the build of Wild Oats XI, the intention being that she would lead the defence team in the Admiral's Cup, but due to circumstances beyond his control, that series never eventuated.
Then, in early 2005, Bob and his eldest son, Sandy, went to McConaghy's boat-building facility on Sydney's northern beaches and saw a 30-metre long canting-keel racing yacht being built for Kiwi yachtsman, Neville Crichton, and to be named Alfa Romeo. Its target was line honours in the Sydney Hobart race at the end of the year.
Bob was so excited by what he saw that he would have bought that yacht there and then had it been offered for sale – but it wasn't. Mark Richards recalls: "Having seen Alfa Romeo, Bob said to me 'I think I'm going to buy one of those' and I said, 'Are you serious?'. He simply said 'Yep', and he did! I actually tried to talk him out of it, but he was already on a roll."
The Hobart race start was 11 months away, which meant that the new yacht would need to be launched within 10 months – and no racing yacht that size and so complex had ever been built in that time anywhere in the world. But that didn't deter Bob Oatley.
He put the entire project together in one weekend. John McConaghy confirmed that if everything fell into place he could build the yacht in the desired time. Then, after the designers, mast and sailmakers and all equipment suppliers had all confirmed they could meet the deadline, Bob pressed the go button on the Monday morning.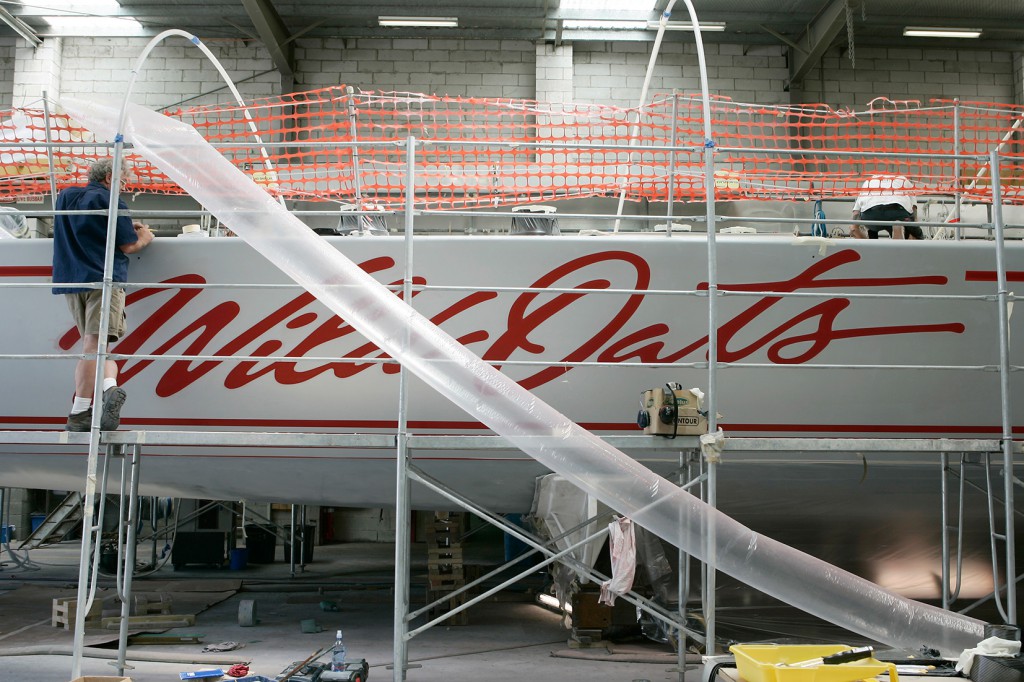 A painter puts the finishing touches on the hull.
"If we had not have built Alfa Romeo we would not have been able to have the yacht completed in 10 months," McConaghy said. "We structured a week-by-week building schedule and put between 50 and 60 guys on the job. They were exciting times."
When Alfa Romeo was contesting Hamilton Island Race Week in August 2005 – as part of her preparation for that year's Hobart race – Wild Oats XI was barely half-built.
It was not until December 2, just 24 days before the start, that Wild Oats XI was launched and the rush to get her into race mode began.
Not surprisingly the well-tuned Alfa Romeo with her equally well-honed crew of international sailors, stood as the pre-race favourite for line honours. But that only made Mark Richards and his team more determined.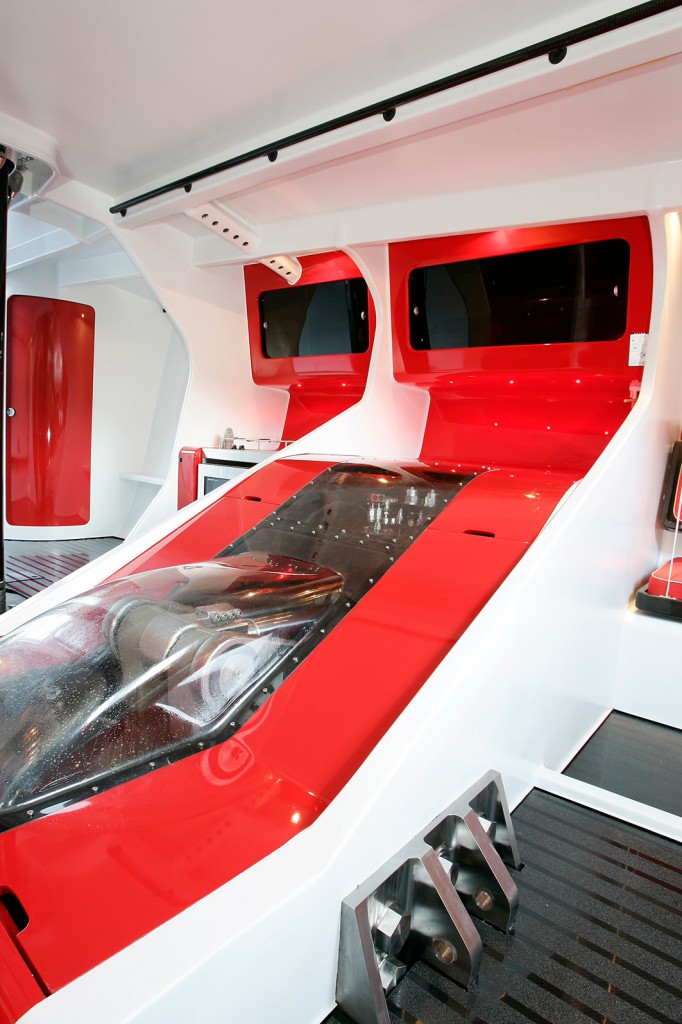 What followed was the perfect example of how spirit, skill, teamwork and determination can achieve the seemingly unachievable. In Bass Strait, about halfway into the race, Alfa Romeo and Wild Oats XI were all but side-by-side. Alfa Romeo then changed her course towards the east while Richards and his team held their nerve: they stayed on the same course, believing it was more favourable – and it was.
After one day, 18 hours, 40 minutes and 10 seconds of racing, Wild Oats XI led the fleet into Hobart to claim the treble – line and handicap honours, and a race-record time.
Richards looks back on this achievement as one of his two greatest moments in the Sydney Hobart race, the other being when Wild Oats XI led the hotly favoured American supermaxi, Comanche, into Hobart in 2014.
Last year Wild Oats XI was extensively modified for the Sydney Hobart race in preparation for another showdown with Comanche. Modifications included the removal of her bow, which is now attached to the Hamilton Island Yacht Club. It was a campaign full of disappointment, culminating in her being forced out of the race due to damage to the mainsail.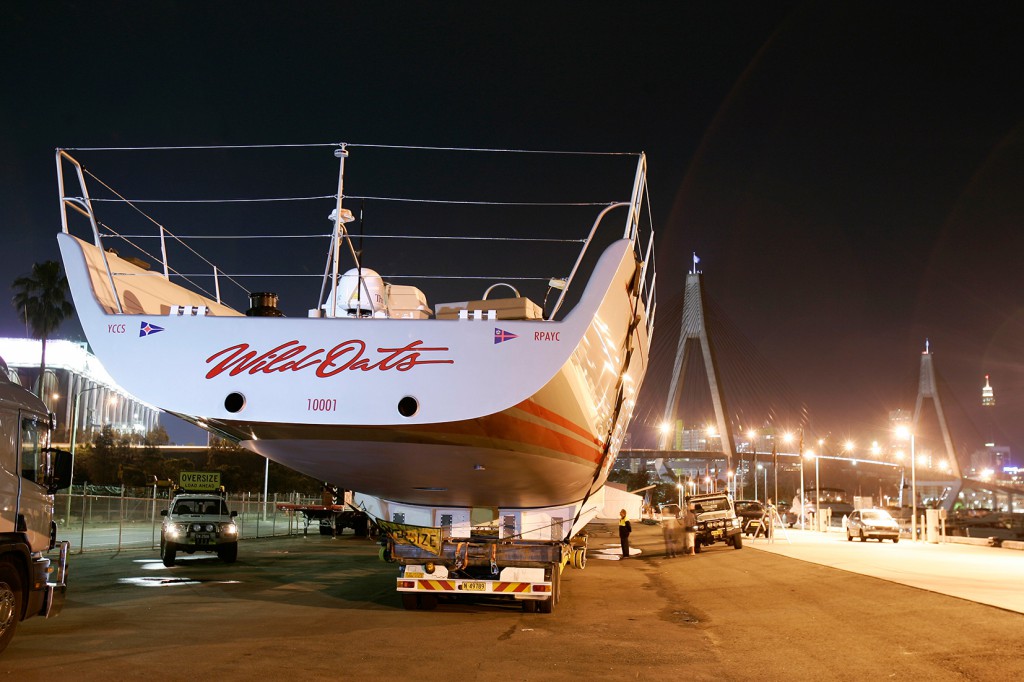 Pre-dawn: Wild Oats XI on the move in Sydney.
"I didn't feel right about our preparations for the race during all of December," Richards said. "There was a lot of pressure surrounding the modifications: I think we made the changes too close to the race and we weren't properly prepared. Bob's deteriorating health was also an issue for everyone: we just loved the man.
"This year all the pressure is off. We're out there to do it for Bob."
Having set a course record in the Brisbane to Keppel race in August, Richards and his highly-skilled crew know the yacht is faster than ever. Wild Oats XI averaged an impressive 20 knots when she lopped more than seven hours off her own record in that event. Should the weather gods smile on her and provide similar downwind conditions in the Sydney Hobart race, she could lop an impressive 12 hours off her record for that race – but that's a big "if" in the Sydney Hobart race.
Regardless, Wild Oats XI is the most successful yacht, and Mark Richards the most successful skipper, in the 72-year history of the classic, and it's safe to say those records will stand for a long time, maybe forever.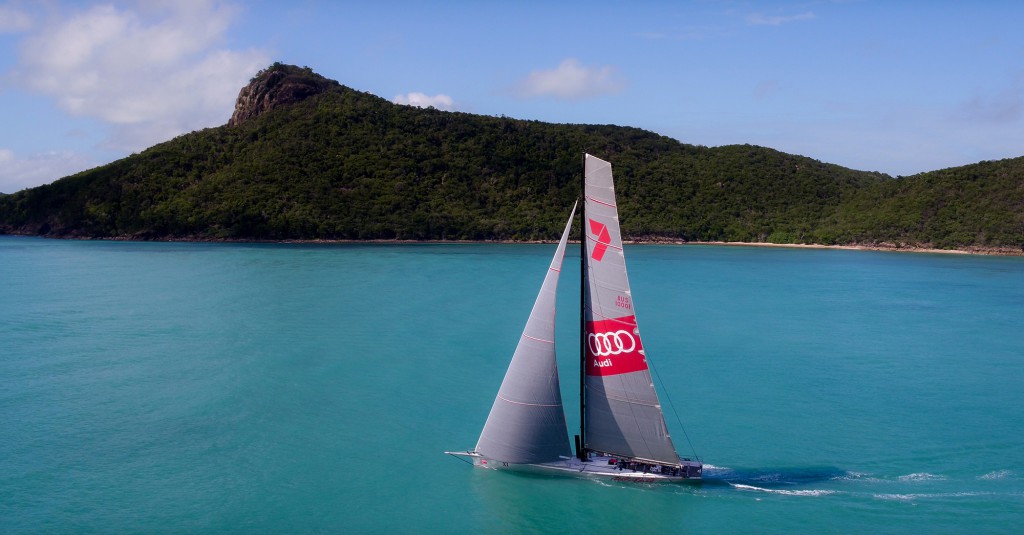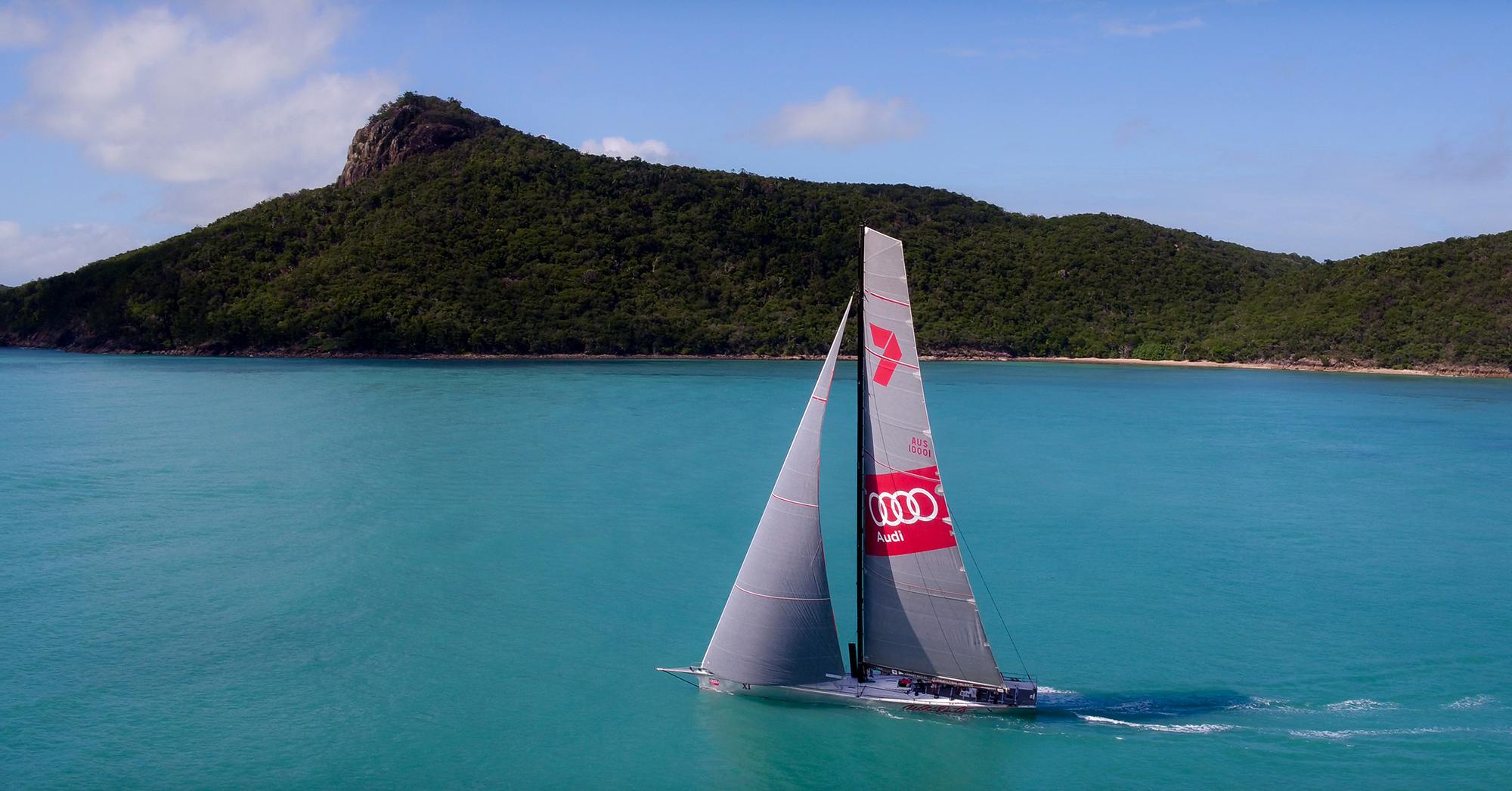 Launched: The revamped Wild Oats XI takes flight. The new spinnaker she carries is 120 square metres larger than the wing area of an Airbus A380 passenger aircraft.