A year after undergoing dramatic structural surgery, where one-third of her hull was cut off at the bow and replaced with a new and improved section, famous supermaxi Wild Oats XI is to undergo another modification on the eve of the Rolex Sydney Hobart Yacht Race.
The new, 11-metre long forward section of the hull has proved to be so efficient that it has negated the need for the horizontal hydrofoil wing, a feature added to the hull three years ago to prevent Wild Oats XI from nose-diving when charging downwind under spinnaker.
"The new bow shape has made a dramatic difference to the yacht's speed both upwind and down", said Wild Oats XI's skipper, Mark Richards. "And, when racing downwind offshore we can now sail the yacht at more than 30 knots without any fear of nose-diving.
"This improvement means we no longer need the retractable horizontal wing to provide lift – it's like excess baggage – so we're going to remove it. It's a decision that was also influenced by the fact that we'll save more than 300 kilograms in hull weight."
Wild Oats XI, which is campaigned by the Oatley family, is one of a fleet of 100 yachts entered for the 628 nautical mile Hobart race, starting December 26. The 30-metre long silver-hulled supermaxi stands as the most successful yacht in the event's 71-year history, and Richards the most successful skipper.
Wild Oats XI will this year be going for an unprecedented ninth line honours, and, given the right conditions, she could well claim the treble for the third time – line and handicap honours and a race record. In 2005 – the year she was launched – Wild Oats XI became the first yacht to achieve that remarkable result since Rani in the inaugural event in 1945.
This year Richards is hoping for a change of fortune after a campaign that was laced with sadness, high pressure and misfortune last year. Weighing heaviest on the program was the declining health of the yacht's owner, 87-year-old Bob Oatley AO, and the rush to get the hull modifications completed in time for the race where the star billing was a showdown with American supermaxi, Comanche. As it turned out, Wild Oats XI was forced to retire from the race during the first night at sea due to sail damage.
"Last year was a big disappointment," Richards said. "We were very unsettled, and I didn't feel right about it for all of December. In hindsight, I think we made the changes too close to race start.
"This year, all pressure is off. We're out there to do it for Bob, who is now in a better place. We've done a lot of work further developing the boat, the crew is probably the best ever, and we have a better training schedule."
But as Richards and his team came to realise in last year's Hobart race, it doesn't take much to force a yacht out of the contest – and this year there will be two similar sized supermaxis racing, Scallywag, owned by Seng Huang Lee, from Hong Kong, and Anthony Bell's Perpetual Loyal.
While all sailors know that in an ocean race you can only deal with the weather on the day, deep down the Wild Oats XI crew are hoping that at some stage at least they'll get strong downwind conditions where the yacht will be "off the leash". And, if those conditions prevail for much of the distance they could well better their own course record time of 1 day, 18 hours, 23 minutes, 12 seconds. If she could repeat of her record run in this year's Brisbane to Keppel race, where she averaged 20 knots for the 348 nautical mile course, she would lop an impressive 12 hours off her record for the Hobart – but that's a big 'if' in the classic.
For more information, or hi-res copies of the images, contact:
Rob Mundle
Wild Oats XI Media Manager – rob.mundle@bigpond.com or +61 (0)417 323 573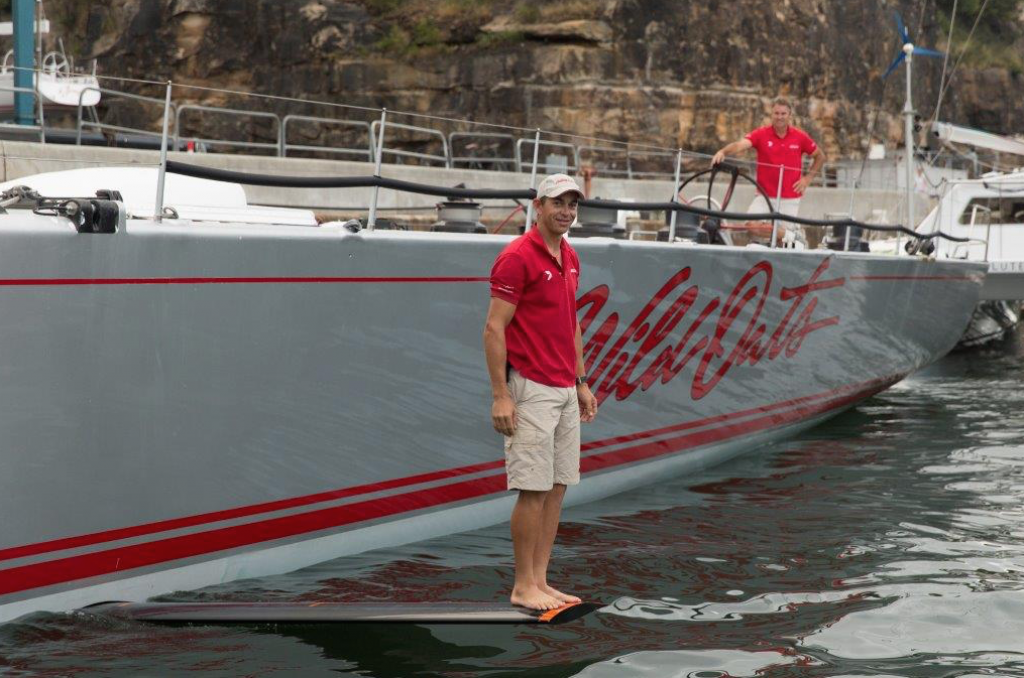 Image by Andrea Francolini.