Bob Oatley's Rolex Sydney Hobart race record holder, Wild Oats XI, is out of the water for a final modification after a high speed and rough weather training run off Sydney.
The 30-metre long supermaxi was taken offshore in a 30–35 knot south easterly wind and big seas to test every part of the boat, and to remind the crew just how tough a Hobart race can be.

At the end of the day, when skipper Mark Richards turned the yacht back towards Sydney Heads, Wild Oats XI gave her crew a stunning ride as she surfed down big seas, at one stage topping a remarkable 33 knots. At the time her mainsail had been reefed down to almost a quarter of its size, and a small No. 4 jib was set.
"It was a really valuable day when it came to preparing for the Hobart race," Richards said, "and the ride back into the harbour capped it off. We sailed upwind and down all day, did sail changes and went through every other possible manoeuvre."
Richards added that sailing in such testing conditions also proved that the extended hydrofoil wing – which was recently increased in length by 800 millimetres – was not such a good idea. While it had delivered the desired increase in speed in light winds, it was a hindrance in rough seas.
"The extra length protruding out to windward caused Wild Oats to slam much harder off the back of big waves when we were sailing upwind," Richards explained. "There was only one solution – take the wing back to its original length so that it would be completely encased within the hull when not in use. So, the boat is now out of the water so the wing can be modified."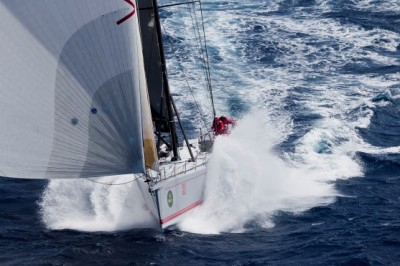 Richards also revealed that a new, maximum sized upwind "Code Zero" headsail, which is scheduled to arrive from America on Thursday, would complete Wild Oats XI's sail inventory for the race.
The importance of the modification to Wild Oats XI's hydrofoil wing will prove highly important if the preliminary weather outlook for the big race from yachting meteorologist, Roger Badham, proves correct.
Badham, who has been forecasting for the Hobart race for more than 30 years, has "red flagged" the possibility of "extremely strong wind over Bass Strait and Tasmania" on December 27. However, he stressed that while he was closely monitoring this possible development, his experience told him that the forecast would not become anything like accurate until five days before the start on Sydney Harbour on Boxing Day.
Wild Oats XI is the most successful yacht to have contested the Sydney Hobart race in its 70 year history. This year, in what will be her tenth start in the classic, the sleek racer will be going for an unprecedented eighth line honours. Since being launched for the 2005 Hobart race she has become the only yacht to secure the triple-crown – line and handicap honours and a race record time – on two occasions. She is also the only yacht to have achieved four consecutive line honours.