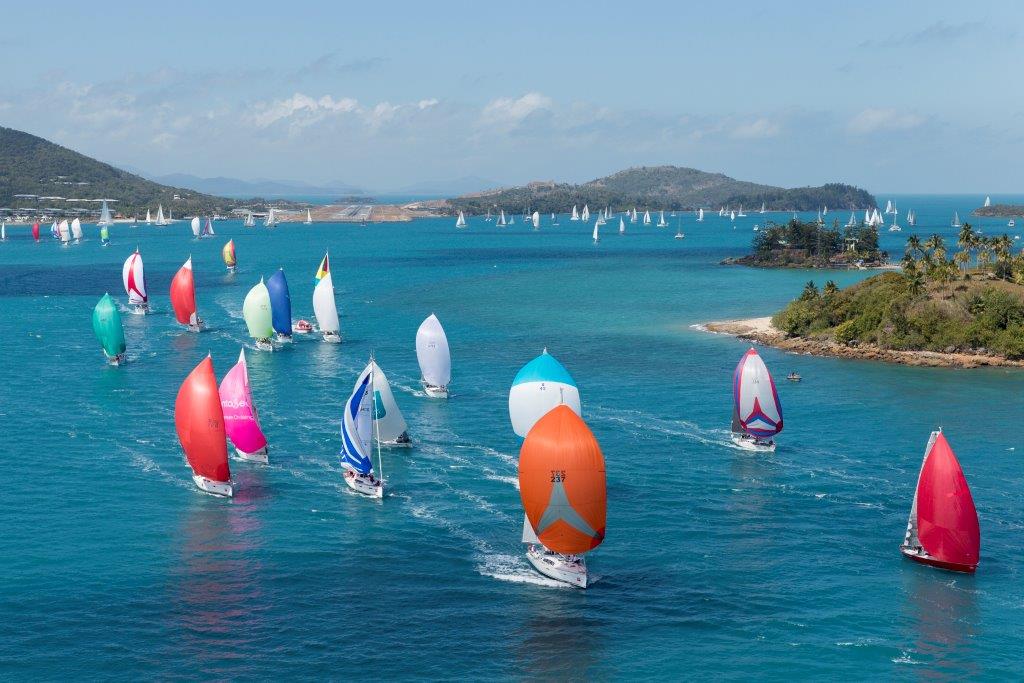 If the initial burst of entries for the Audi Hamilton Island Race Week 2016 is an indicator, this year's regatta will once again be something very special.
Near 40 yachts representing a diverse cross-section of the sport have already nominated for what will be the 33rd staging of the high-profile series. Should this momentum continue, the number of entries will soon surge past 50, a milestone that would indicate a final fleet of around 200 is likely for the series which is scheduled from August 20 to 27.
Race Week at Hamilton Island is recognised as Australia's premier offshore regatta; an event that stands among the best in the world when it comes to excellent racing on courses that weave around tropical islands, a unique onshore party environment, and exceptional camaraderie among participants.
The fact that the regatta caters for the full spectrum of sailboats, from superyachts through to small trailable yachts and multihulls of all sizes, is already reflected in this year's entry list: there are four yachts over 20-metres in length, a broad sample of Grand Prix level racers and cruiser-racers, casual cruising yachts and eight multihulls.
Bringing added status to Audi Hamilton Island Race Week 2016 is the decision by the sport's governing body, Yachting Australia, to once again host the Australian Yachting Championships for Grand Prix, Performance Handicap and Offshore Multihull yachts at the series.
Of those registered to date, it's clearly evident that no-one was more enthusiastic about entering for this year than Drew Jones, from Southport Yacht Club on the Gold Coast. He entered the Bavaria 44, Stormy Petrel V, which he owns with his partner, Leslie Richards, within days of Audi Hamilton Island Race Week 2015 being completed. With there being no entry form available at the time for this year's regatta, he simply entered on last year's form!
"I've done 12 Race Weeks crewing for other people, and I have to say the regatta gets better every year – it's the full bottle, a cut above everything else," Drew Jones said when speaking about the appeal of the regatta.
"So, with Leslie and me having bought Stormy Petrel V, and us enjoying last year's regatta so much when sailing as crew with friends, we decided to race our own boat this year. I went on-line and entered there and then, not realising until later it was last year's entry form. That obviously didn't matter, because we are entered and recognised as being the first. I hope that's a good omen for the series."
Jones, who started his sailing life racing dinghies on Melbourne's Albert Park Lake, then worked his way up to where he was part of the shore crew for John Bertrand's OneAustralia America's Cup campaign in 1995, moved to the Gold Coast about eight years ago and became part of the local keelboat scene. He said it was possible 12 yachts from Southport Yacht Club would compete at Race Week this year.
The Notice of Race and entry form for Audi Hamilton Island Race Week 2016 are now posted on the Race Week website, www.hamiltonislandraceweek.com.au The regatta – Australia's largest offshore sailing series – caters for a remarkably wide range of sailboats: from sportboats and trailer sailers through to Grand Prix level keelboats, maxi yachts, cruising yachts of all sizes and configuration, and multihulls.
Audi Australia returns as the naming right sponsor of Audi Hamilton Island Race Week for an incredible eleventh year.  Throughout the past decade of partnership, Audi and Hamilton Island have worked hand-in-hand to create the most impressive sailing regatta in Australia, with even more activities on offer for sailors and onshore guests alike. This shared vision is based on a joint passion for winning performance, technological innovation and spirited competition.
For additional regatta information please contact:
Rob Mundle
Promotions Manager, Audi Hamilton Island Race Week 2016
rob.mundle@bigpond.com         Phone: + 61 (0)417 323 573 or + 61 (0)7 5527 1126