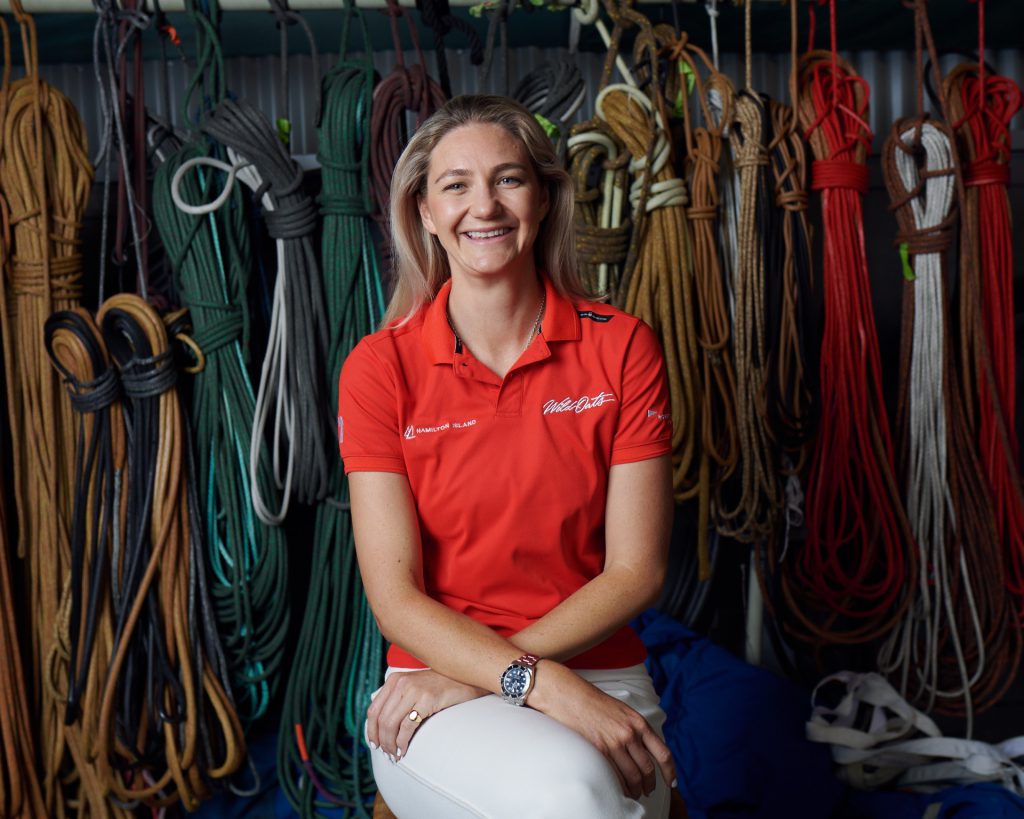 Nickname: Mother Hen/Big Bird
Role: Logistics and Operations Manager of Wild Oats XI
Background:
I grew up on a 50ft wooden ketch, travelling around the world with my mum and dad. I sailed around the Horn of Africa for the first time when I was three years old. My parents sailed right up until two weeks prior to my birth and we were back on the boat when I was three days old. I didn't join civilisation properly until I was 17 which meant mostly schooling by correspondence.
How long have you been part of the Wild Oats program: Nine years. I came from Spain for the 2014 Sydney Hobart campaign and fell in love with the entire Wild Oats family.
Most memorable moments: Winning is always great! The first win after Bob Oatley's passing was really big for us, as it felt as though we were really honouring his memory and carrying on the legacy that he started.
Away from the Hobart race, I experienced some pretty tough moments as a teenage where the family was in such terrible conditions that we all said goodbye to each other. The ocean is a funny beast and you learn to read it.
My advice for those young people looking to enter the yachting industry is to just surround yourself with people in the industry who are good at what they do and have a good reputation for being supportive and inclusive. Yachting can be an exclusive community and if you spend time around the right people, you will be valued and included for what you have to offer.
Make sure you always take your sunscreen and your hat when sailing. There are far too many sailors with melanomas and have their nose and ears missing.
The thoughts that usually cross my mind at the start of a Sydney to Hobart are along the lines of 'Oh my god, the big days here'. So much time, effort and emotion goes into preparing a boat and a crew for the Sydney to Hobart. Not many people realise how much is involved… and whether it's the shore team or race crew, everyone puts their heart and soul into it. In those couple of minutes prior to the starting gun, you are just completely overwhelmed. On the other end, once we see the boat coming up the Derwent, whether it be in first, second, third or fourth, it honestly doesn't matter where they are! The relief that they have made it there and that everyone is safe, the boat has made it and the preparation has all be worthwhile. While it is about winning, it's not all about winning… It's about working together as a team and doing our best and really trying to honour the legacy that Bob left and giving it our all.
It's been a few years since we as a team have competed in the Sydney Hobart Race. We were all a bit rusty when we first got back together… it took a while to get everybody back on the same page, but we're all working really good as a team now, so the thing that I am looking forward to the most, is being able to celebrate together, as a team and recognise all the time and effort that has gone into getting the boat and the team ready for such a massive undertaking; it's a huge job to get that boat to Hobart in one piece and hopefully in first position. I feel like the red shirts are all my children, I love them! Everyone calls me the cat mother, because I spend all my time herding the cats