Follow our journey on social media – #WildOatsXI
<< Please use the grey scroll bar to view more posts >>
MEET THE TEAM
This year's Wild Oats XI Rolex Sydney Hobart crew is not one to be messed with. The team of 20, lead by Skipper Mark Richards, is comprised of some of the world's most talented and applauded sailors, including numerous America's Cup, Olympic and Volvo veterans. With nearly 250 combined races between them, the key to this yacht's impressive history has undoubtedly come down to picking the right crew, and sticking with them.
While Wild Oats XI owners, father and son duo Bob and Sandy Oatley, have kept the boat competitive through continuous modification, the winning formula has been keeping the crew turnover to a minimum, ensuring that everyone onboard knows the boat inside out and works effectively together as a team. Under the guidance of Mark Richards,  the team is vying for a record breaking 9th line honours win in this years edition of the Rolex Sydney Hobart. 
NEWS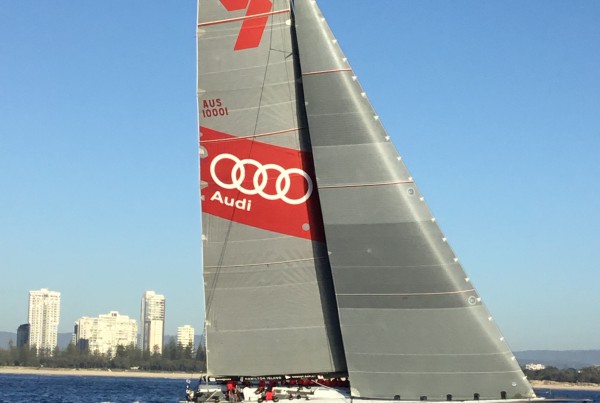 In the closest finish in more than 15 years, the Oatley family's record-breaking supermaxi, Wild Oats XI, has claimed line honours for the sixth time in the 384 nautical mile Land Rover Sydney Gold Coast Race. The 30-metre long, silver-hulled racer knifed its way across the finish line off Main Beach soon after sunrise; and only 3m 31s behind was the similar sized Black Jack, owned by Peter Harburg, out of Brisbane. These two yachts started life as near-identical Reichel-Pugh designs in 2005. Harburg purchased Black Jack from a European owner earlier this year, shipped it to Sydney and had it modified just in time for this race. Light to medium headwinds made what was the 32nd staging of the…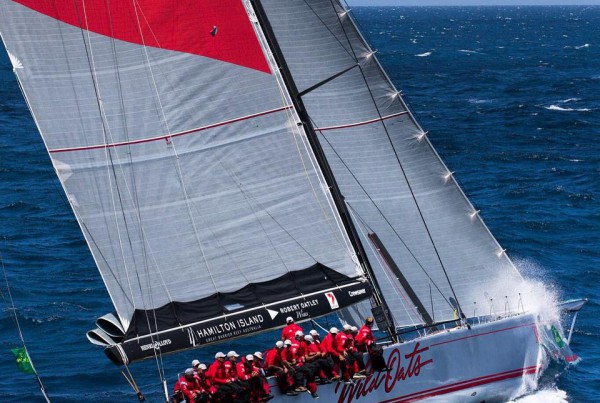 Australia's most successful ocean racing supermaxi yacht, Wild Oats XI, will return to competition tomorrow as a starter in the 384 nautical mile Land Rover Sydney Gold Coast race. The 30-metre long, silver-hulled racer, which is owned by the Oatley family, made a dramatic exit from the Rolex Sydney Hobart race last December when the hydraulic mechanism controlling the canting keel failed. Wild Oats XI was leading the fleet mid-Bass Strait when the incident occurred. The cause for the keel failure was confirmed after the yacht limped back into Sydney Harbour and was lifted from the water. "We did exhaustive tests on every piece of the hydraulic keel mechanism to make sure this was a once only problem," said the…
THE ROLEX SYDNEY TO HOBART RACE
Often referred to as the most gruelling yacht race in the world, The Rolex Sydney to Hobart is a challenge to anyone who chooses to take part.
Over the past 69 years, the event, held on 26th December, has become an icon of Australia's summer sport, ranking in public interest with such national events as the Melbourne Cup horse race, the Davis Cup tennis and the cricket tests between Australia and England. No regular annual yachting event in the world attracts such huge media coverage than does the start on Sydney Harbour.
Participants from maxi yachts to weekend racers take part in the event, which starts at Nielsen Park in Sydney Harbour and takes the international fleet 628 nautical miles to the finish line in the Derwent River, Hobart.The journey itself is no walk in the park. Not only do crews have to consider strong tides, varying wind strength and a hazardous coastline to navigate – there's also the ever-growing threat of a collision with a soft marine object.
At the finish line – whether crews are celebrating or commiserating, Hobart's waterfront is overrun with yachts and their crews enjoying a beer or two regaling tails of the race. It's an event that Tasmanian's love to host so if you're down that way – make sure you swing by the dockside bars.
WILD OATS XI – KEY DEVELOPMENTS OVER THE LAST DECADE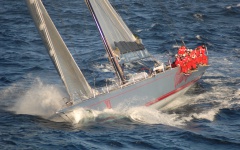 2005
Wild Oats XI was launched only a matter of days before her first Rolex Sydney Hobart race. She proved to be so fast that she blasted her way to a rare 'Triple Crown' victory – line honours, a race record time and victory on handicap. Her time for the 628 nautical mile course was 1 day, 18 hours, 40 minutes, and 10 seconds, more than an hour inside the previous record.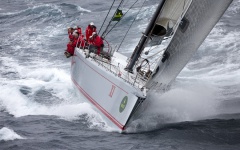 2009
The Oatley family's renowned Wild Oats XI was extended to the new maximum overall length for yachts contesting the Rolex Sydney Hobart race – 30.48 metres (100ft).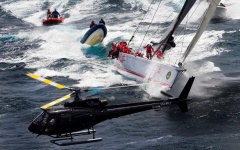 2012
Under Skipper Mark Richard's expert captainship, Wild Oats XI again took the triple-crown in the Rolex Sydney Hobart race - line and handicap honours and a race record time. That elapsed time was 16 minutes, 58 seconds inside her previous mark.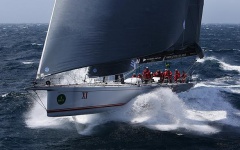 2013
Pioneering new technology, Wild Oats XI again pioneered new technology: she was the first international ocean racing yacht to carry a hydrofoil-type wing; a feature designed to provide lift to her bow and therefore deliver greater speed when sailing downwind.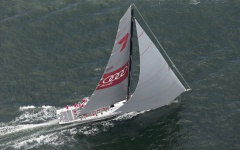 2014
Wild Oats XI's bow is streamlined to reduce drag – a modification that was expected to gain her just a few seconds per mile in speed. While this does not sound like much, the fractional gain in speed could contribute to her being between 15 and 30 minutes faster over the 628 nautical mile course to Hobart. She was also fitted with new sails made from a revolutionary, non-stretch, ultra-light fabric.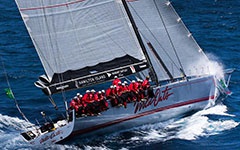 2015
The underside of the hull has been resurfaced with a high performance finish, which is expected to reduce drag and therefore increase speed through water, and several new sails utilising cutting edge 3Di technology have been fitted to the yacht.

"The Audi team is incredibly excited to be strengthening ties with a strong brand partner in Hamilton Island and Wild Oats XI. It's fair to say that together with Audi, these are powerhouse brands in Australia and the closer link will cement our investment in the sport of sailing in Australia"

− Andrew Doyle, Audi Australia
"We truly value our partnership with the Oatley Family and Wild Oats XI. Seven has a long and proud association with yachting and a deep connection with Sydney and her Harbour. We applaud the professionalism, commitment and talent of all who sail on Wild Oats XI and take great pride in riding with her and her crew."

− Saul Shtein, Head of Channel 7 Sport
"It's a great honour to be associated with a yacht with the track record of Wild Oat's XI and we enjoy being not only partners in their quest for an historic 8th Syd-Hob line honours but also to be trying where possible to emulate their feats on a reputational basis, pushing the boundaries of performance and standards of excellence in tourism."

− Glenn Bourke, CEO, Hamilton Island